Why book your parking with Express? – By pre-booking your car parking with Express parking you will be able to make big savings rather than just turning up on the day . A number of airport car parking companies charge a premium if you do decide just turn up and park your car. always pre-booking will allow you to benefit from lowe rates and can be as much as 60%. an average customer you can save approximately 20% by simply making a quick visit to Express parking
Availability – The express booking engine allows you to check car parking availability on that day,allowing you to book live on-line.
Saving – These are saving displayed on the car park availability page is the difference between the standard rate and your booking rate.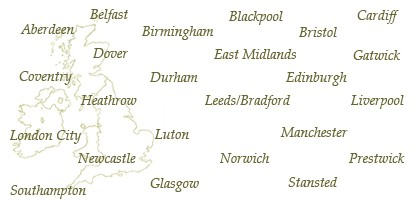 Credit Card Safety – This Site has been vigorously checked and tested allowing peace of mind and alternately we are a 100% secure booking site. The site operates a industry-standard Secure Sockets Layer (SSL) technology to allow for the encryption of potentially sensitive information such as your name, address and other critically sensitive information like your credit card details. Information passed between your computer and our Web site cannot be read in the event it is intercepted by someone else. The risk of credit card fraud is 100 times greater when using your credit card in a restaurant etc. when compared with shopping on the internet. Current encryption technologies virtually eliminates credit card fraud via the internet. In the extremely unlikely event that fraudulent use of your card occurs as a result of payment for our partner APH, and as long as you notify your credit card issuer in accordance with its reporting rules and procedures, any costs incurred by your credit company for which you are held responsible will be covered by APH. Additionally, APH will also refund up to 100% of any direct loss from a fraudulent use of your credit card as a result of entering your details into their booking system.
Directions – Directions of how you can find the car parking sites can be found on by clicking on the airport cities on the front page. This is displayed on the airport car park quote button on the front page . On completion of your booking, car park directions along with arrival and return procedures will be included with your confirmation.
Customer Relations – For any reason If you have any problems with the service at the car park or reservation centre then please feel free to call our Customer Service team on 0870 737 7671 quoting Reference – WE107 .
Date & Time of trave l – The Departing and Returning Dates and Times displayed on the Availability page are the dates and times of arrival and return at the car park.
Cookies – this is what is known as temporary or session cookie which is stored on your computer during browsing session. When you close Internet Explorer it will be automatically deleted.
Payment details – In order to qualify for the pre-booking savings offered by us customer must pre-book and pay in full for departure. Payment must be made in full at the time of booking. We accept all major debit and credit cards. Please note that our web site is fully secure. If you would prefer not to enter your debit/credit card numbers then please call reservations to make your booking on 0870 737 7671 quoting reference – WE107 .
Quotes – Please use the on-line 'Get a Quote' option to obtain the latest live availability and prices. Unfortunately we are unable to give a quotation by email. We are committed to providing the highest levels of service standards and the best choice of 19 car parks, at the lowest prices. We continually review our car parks and prices. There are likely to be some special offers where prices go down and in some circumstances prices may go up. You can use our on-line quotation system to obtain prices at any of our featured car parks or if you prefer call the call centre between 09:00 – 21:00 Monday to Friday and 09:00 – 16:00 Weekends and Bank holidays please call 0870 737 7671 quoting Reference – WE107 .
Disclaimer:
Airport Parking Express accepts no responsibility for any of the content contained herein. The information contained within these pages, are intended purely as informational only. Airport Parking Express will accept no responsibility for any consequential loss, injury, or accident that may arise from the reference materials herein. Airport Parking Express also does not accept any liability for external sites linked to by us. The information should be taken 'as is', and is intended to serve purely as a help guide.