Airport Parking
Gatwick airport parking – Park car at Gatwick airport, Heathrow airport, Stansted airport, or any other major UK airport. Get a quote for airport car parking and see how little it will cost to leave your car at the airport with our cheap rates.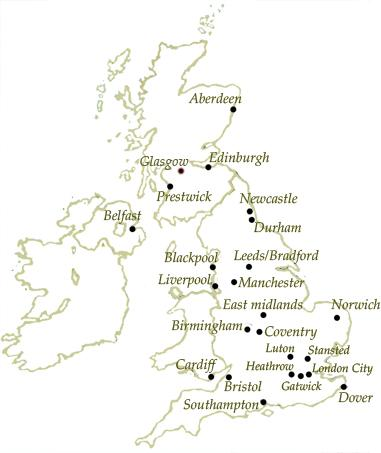 Airport Car Parking
Gatwick, Heathrow, Stansted. Airport parking, when pre-booked, can save money and time, instead of just arriving and parking on the day you fly. We can provide airport parking at 24 UK airports, offering a total of 33 car parks.
We offer airport car parking at:
Aberdeen – Belfast – Blackpool – Birmingham – Bristol – Cardiff – Coventry – Dover – Durham Tees Valley – East Midlands – Edinburgh – Gatwick – Glasgow – Heathrow – Leeds – Liverpool – London City – Luton – Manchester – Newcastle – Norwich – Prestwick – Southampton – Stansted
Whether it's Gatwick airport parking, Heathrow airport parking, Stansted airport parking, or any of our other UK airport parking offers we can give cheap deals for you to park your car at the airport. Often the best deals do not always prove as cost effective due to the extra expense of travelling to the airport. When combined with the added difficulties and discomfort of lugging around your holiday luggage, travelling by car to the airport seems a very attractive alternative and we can provide you with all the facilities you need to arrange your parking. We offer several different types of parking to suit your needs, in 33 car parks at 24 UK airport parking locations.
London Heathrow Airport parking, London Gatwick Airport parking plus many major UK Airports. We cater for Long stay Heathrow Airport Parking. Pre-book and save up to 50% through our secure & award winning services for Stansted airport car parking, Manchester airport car parking and many others. Offsite and Long Term Parking. Facility near Manchester airport car parking.
Gatwick Airport Parking
Information about car parking at Gatwick Airport. Get a quote for Gatwick airport parking and book online today! Please check our hotel prices to consider staying overnight at one of the Gatwick Airport Hotels. A double room including 2 weeks Gatwick airport parking 'Free' is often cheaper than Gatwick airport parking alone.
Heathrow Airport Parking
Big discounts for online Heathrow airport parking bookings. From our selection of Heathrow airport parking and hotels near to the airport a room can be yours at a reduced rate via the quote system. Search for discounted room rates using our real time Booking system.
Stansted Airport Parking
Pre-book and save up to 50% for our secure & award winning Stansted airport parking. Book your Stansted airport parking online & save up to 60% On the gate price. Guaranteed low prices for Stansted Airport Parking. Stansted is classed as a London Airport on the outskirts of the city. We have a wide selection of Stansted airport parking and hotels. A room at a reduced Rate can be yours from as little as £20. Check the room rate prices using the parking and hotel package on the quote engine.
Manchester Airport Parking
For car parking at Manchester Airport enter dates and times to obtain available spaces and quote for Manchester airport parking.
Secure Online Service
Airport parking booked via our service is highly secure – you can check each car park's security description online before you confirm your booking. Parking security standards are extremely high. Our quote/booking engine can offer you a range of options (subject to availability) at quality airport parking locations.
Secure valet parking is available at all our featured airports. To save you time on departure simply leave your car at the car park reception and your car will be parked for you.
Meet and Greet Parking at Gatwick Airport … Heathrow .. Stansted airport parking at UK airports. Take full advantage of the Meet & Greet airport parking service available at some airports.
Hotels With Parking
Swap the hustle and bustle of the terminal for the quiet and comfort of an executive lounge. Avoid an early morning start and the rush hour traffic by booking an airport hotel. Our rates include parking and often only work out just a few pounds more than parking alone Here's another great way to start your holiday. Book a hotel stay and leave your car at the hotel for the full period of your trip. Hotels near to airports are keen to secure your custom and you will find that they offer cheap room rates when combined with car parking.
Whether you book a holiday or a business trip airport car parking can now be arranged online via a secure booking service. We currently feature parking at or near to 24 UK airports. At many of the larger airports we are able to offer you a choice of car parks.