Airport Parking
Gatwick airport parking – Park car at Gatwick airport, Heathrow airport, Stansted airport, or any other major UK airport. Get a quote for airport car parking and see how little it will cost to leave your car at the airport with our cheap rates. If you pre-book your airport parking it will save you money, instead of just arriving and parking on the day you fly. We can provide parking at 19 UK airports, offering a total of 30 car parks. Simply pick the best type of parking for your needs.
All of our featured airport car parks offer secure valet parking. All you have to do is leave your car at the car park reception and it will be parked for you, saving you precious time and helping to alleviate some of the stresses that can accompany your trip. If you are concerned about car park security, feel assured that many of our car parks have been awarded the ACPO Award for Security. Additionally, a number of our airports can provide self-park parking is available at a number of airports.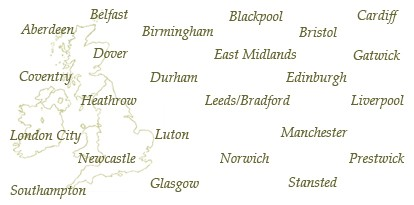 Meet And Greet: We can save you even more time and worry if you upgrade to Meet and Greet. Your car can be collected from you at the airport, and transferred by one of our representatives to the car park. On your return a representative will meet you again at with your vehicle, returning your car to the terminal.
Telephone Booking
To book over the telephone, please call: 0870 737 7671 quoting ref: WE107
Disclaimer:
Airport Parking Express accepts no responsibility for any of the content contained herein. The information contained within these pages, are intended purely as informational only. Airport Parking Express will accept no responsibility for any consequential loss, injury, or accident that may arise from the reference materials herein. Airport Parking Express also does not accept any liability for external sites linked to by us. The information should be taken 'as is', and is intended to serve purely as a help guide.