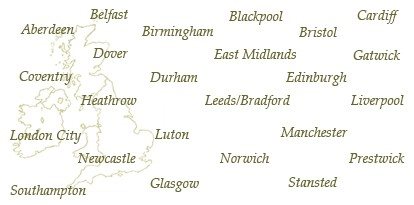 Airport parking and lounges at Gatwick, Heathrow, Stansted, Manchester, Southampton, and all other major UK airports. Nobody likes airport crowds, particularly when it's the height of summer. From only £16.50 per person you can escape these crowds by soaking up the relaxing comfort of an airport lounge. Normally reserved for business class passengers, an airport lounge can provide you with complimentary tea/coffee, soft drinks, alcoholic beverages, magazines/newspapers, snacks ensuring that you feel calm and relaxed even if your flight is delayed!
We are able to offer such lounges at most major UK airports, and each lounge has been designed with a tranquil environment in mind, utilising natural light and materials in an imaginative way where you can feel at ease and start your trip off free from pressure. Disabled access may vary in some locations, so please ensure that you have checked your individual requirements prior to booking.
Lounges located after Passport Control are not suitable for passengers on domestic flights unless stated otherwise. For security reasons if you need to leave the lounge, you must take any luggage with you even if you wish to return.
Lounges have a smart casual dress code and expect reasonable behaviour from guests. Lounge staff reserve the right to refuse admission. Smoking arrangements vary from lounge to lounge. There is a charge for champagne. Other drinks and snacks are provided free of charge. Lounge staff may announce your flight but cannot guarantee to do so. All lounges have flight information screens and you are responsible for catching your flight. You may arrive at the lounge up to 3 hours before your flight time. Entry prior to this time will be at the discretion of the lounge staff. In lounges which permit children they must be accompanied by an adult at all times
Telephone Booking
To book over the telephone, please call: 0870 737 7671 quoting ref: WE107
Disclaimer:
Airport Parking Express accepts no responsibility for any of the content contained herein. The information contained within these pages, are intended purely as informational only. Airport Parking Express will accept no responsibility for any consequential loss, injury, or accident that may arise from the reference materials herein. Airport Parking Express also does not accept any liability for external sites linked to by us. The information should be taken 'as is', and is intended to serve purely as a help guide.